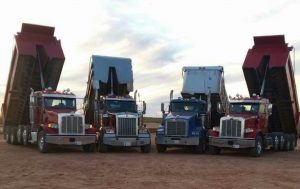 We're always on the lookout for dedicated, hard-working professionals that can provide the high quality, dependable hauling service our customers have come to expect.
To apply, you must have a CDL and a clean driving record, and you must be dependable, able to find locations, and able to consistently arrive at work and job sites on time. You should be able to make good decisions, work independently, and safely operate dump trucks and belly dumps, both on the road and at job sites. We're dedicated to providing honest service and prompt, reliable hauling, and all employees are expected to uphold these values. The ability to work a flexible schedule is also important, as we strive to provide hauling services for our customers on their schedule.
If you're interested in joining our team, contact us today to learn more about the opportunities we have available.